Last Updated on April 20, 2022 by WP Knowledge Hub
Back in the "old days", WordPress had to be installed manually. You had to create a database in phpMyAdmin, download the WordPress core files and add them to your server, then connect the database through the wp-config.php file. Since then, it's become MUCH easier using software like Installatron, which allows you to install WordPress in a few clicks.
This should only take a few minutes so let's get started!
Using Installatron in Your Hosting Panel
Most modern hosting companies that offer a linux environment like GoDaddy, HostPapa, 1and1, Dreamhost, and others, offer custom hosting panels like cPanel or Direct Admin that typically come with Installatron pre-installed.
To use Installatron, you must have a hosting account with a company that has it installed on their server. In cPanel, or Direct Admin, it should look something like this: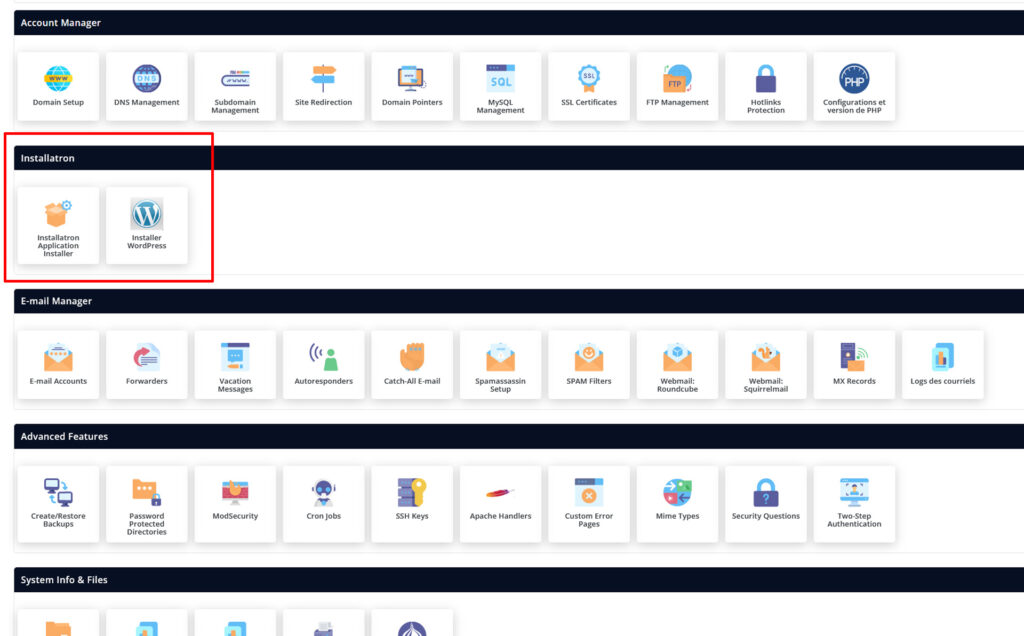 Finding WordPress within Installatron
Now that you've clicked on Installatron, you should see a list of all the available applications. If you don't, look for the tabs at the top and click the navigation tab with the star icon, the application installer.
Ignore the overwhelming list of all the software here, and focus on WordPress:
Installing WordPress with Installatron
You should now be in the Installatron application's WordPress installer. Here's what you need to do:
Make sure you have the right domain name and leave the folder option blank. This will create WordPress in your root directory
Leave the version and language untouched, and set your preferences for auto-updates. I would leave everything here as-is
Choose a username and password, and enter the admin email, the master email for this website. This is the username and password you will use to log into WordPress
Leave everything else as-is and click install.
That's it! Now you should be able to see your installation, and the options to manage your website:
If you see a little red icon in the top right of your installation, like the image above, it means you have some updates to make.
Using Installatron, you can make updates and backups of your site to keep it safe, as well!